Report of the Final Competition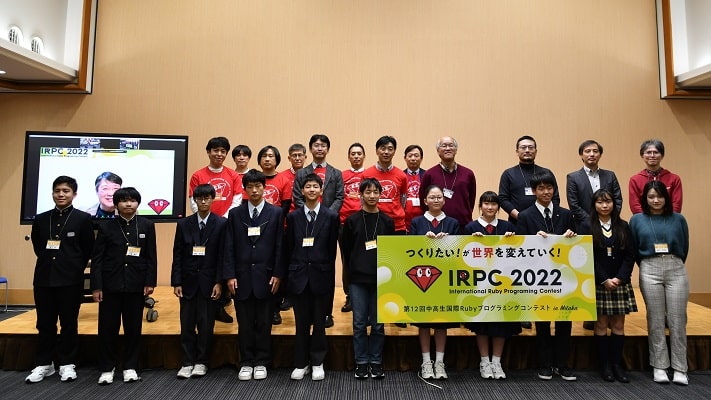 Opening Ceremony
"It has been three years since we were able to get together last time for this event. It's really good to see the contestants here and judge their work directly." Said Hiroshi Inoue, chairman of the Executive Committee, at the opening of the final selection. Nine out of 116 applicants passed the initial screening to come here. Inoue said to the tense-looking contestants, "Enjoy presenting what you have made, and get it judged. You will have a great day today."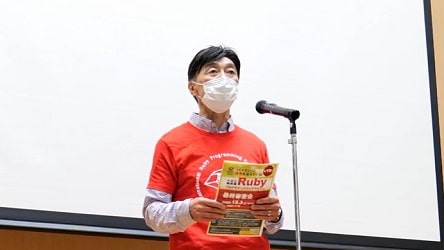 ▲Hiroshi Inoue Executive Chairman
Then, congratulatory messages from three Ministries (the Ministry of Economy, Trade and Industry; the Ministry of Internal Affairs and Communications; and the Ministry of Culture, Sports, Science and Technology) were read out, and cheers were sent to all the talented young students who were learning programming and would shoulder the future of Japan.
After that, following the introduction of sponsors, the contestants were introduced. Each showed their enthusiasm with a pose.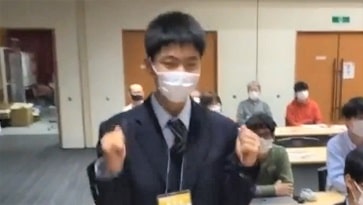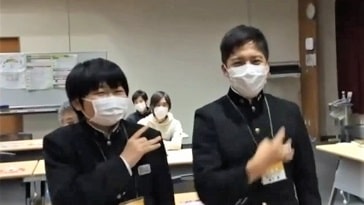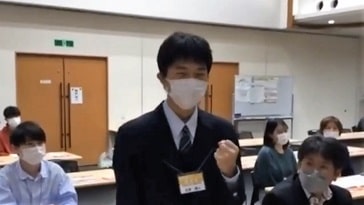 Presentaion
Game Division

Grand Prize / Eiwa Award
Grand Prize / Eiwa Award
Risa Ikeda, Honoka Endo – Team "Ghost Members"
Takizawa Municipal Second Junior High School Science and Technology Club
Title: Zombie Ward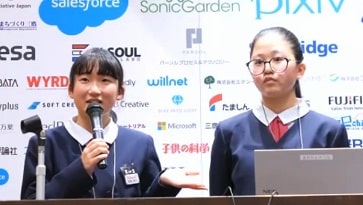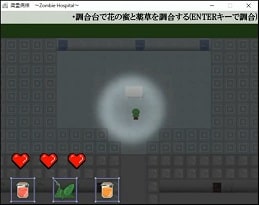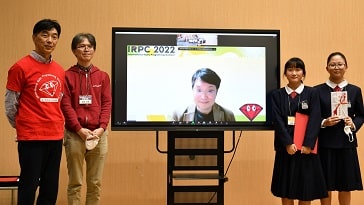 The setting of this game is an abandoned hospital. "The theme of this game is fear and horror," said Honoka Endo, who is in charge of programing. "To express that, I carefully thought about how to effectively use the gimmicks. Furthermore, I was also particular about making the story unpredictable, and having the characters inspire fear." Risa Ikeda, who is in charge of graphics, talked about the points she worked hard on, "We didn't use bright colors because it's a horror game. We made the zombies lean forward."
The most decisive factor which lead this game to gain the First Prize was the well-expressed atmosphere of horror. The team exerted a great effort and finally realized what they wanted to do, which was highly evaluated, and the team received the honorable Grand Prize. The easy-to-read source code was also evaluated, and they were awarded a sponsor's prize, Eiwa Award.
Receiving the prizes, Endo said, "Through the creation of 'Zombie Ward', the more things you can do, the more things you want to do. If you increase the things you want to do and work hard, you will be able to do it more. Programing is fun! I want everyone to know how fun it is," she expressed her passion.
"I'm so happy that I won the first prize, which has been my goal. It's like a dream!" Ikeda expressed her joy with a smile.
---

Excellence Award / Pixiv Award
Haruto Kijima
Matsue National College of Technology
Title: !DANMAKU!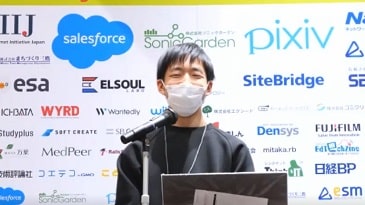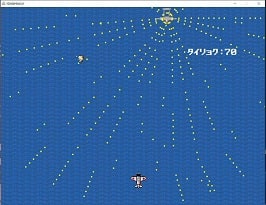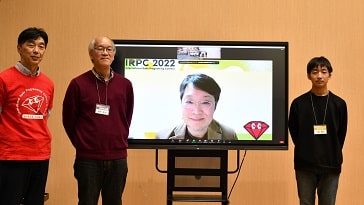 Haruto Kijima has 3 month's experience of using Ruby. He presented a barrage shooting game in which the player controls firearms and defeat enemies. You can choose the language between Japanese and English at the functions such as ranking, and options. "When I detected an end using the instance variable of the current scene class, I loaded the next stage held by the current scene and executed it. This made me feel that I was able to devise a new way," said Kijima. He also created a template class to inherited it and devised a way to use the controller.
Being asked by Judge Kazuaki Tanaka why he had made its English version available, he said, "As this is an international competition, I put what little international elements I knew into this game."
His humorous reply made the audience laugh.
Kijima also won the Pixiv Award, because of his easy-to-read source code of the program, wide-ranged and high-leveled functions, and, more than anything, his interesting presentation.
Getting two awards at once, he expressed his joy saying, "I tried very hard to be creative until I felt satisfied. I'm very glad that my efforts were recognized more highly than I had expected.
---

Special Jury Award / Matz Award
Hayato Omori
Ehime Prefectural Matsuyama Technical High School.
Title: Slime Buster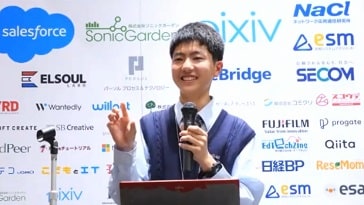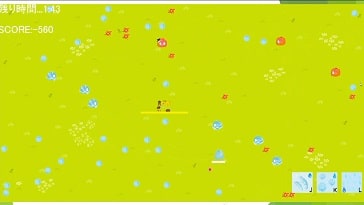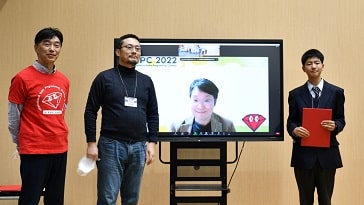 "I wanted to create a game that anyone can easily enjoy," said Omori. It is a game where you attack and defeat enemy slimes approaching to your base. It is unique that three attacking characters, tree, water, and fire, are replaced by each other. He said, "The first thing that I worked on hard was to create "cute" characters and skill effects, and the second was to shorten the winning determination time by using sprites. "I was able to control the amount of damage by specifying the functions inside the class so that we can have three screens," he said, revealing that his knowledge of mathematics helped him a lot.
Omori won Special Jury Award for his highly evaluated game design and the screen effect that enabled the slimy moving animation.
Omori also received the Matz Award. Chief Judge Matsumoto said, "The gameplay was very interesting, Also your effective use of trigonometric functions will make a strong counterargument against the common saying that there is no use of learning trigonometric functions at school. This is really great."
As Omori was initially aiming at the highest award, he said, "I was very disappointed until just now. But now I am very grateful to have the Matz Award."
---

Special Jury Award
Yuzuki Fujieda
Ehime Prefectural Matsuyama Technical High School.
Title: Arithmetic Shooting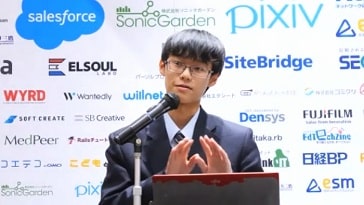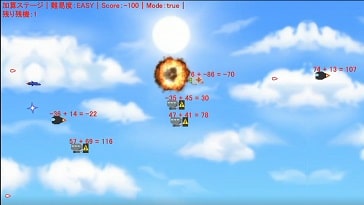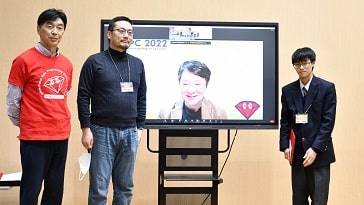 In this game you do four basic arithmetic operations while shooting. Players have to correctly judge the truth of formulas to go through the stages and defeat the boss. Fujieda, explaining why he created the game, said, "As my mental arithmetic speed was slow, and I wanted to make a game that could improve my arithmetic ability."
Fujieda succeeded in shortening the code by using arguments and inheritance, and also, by using multi-dimensional arrays, attaching functions of adding, and replacing scores. His future tasks are to write easy-to-understand codes and implement save functions, in which he would like to improve his performance.
Fujieda received Special Jury Award for his originality in combining barrage shooting and calculation, and his ability to properly manage scores. "I'm very happy I was able to participate in this competition and received a special award. Thank you very much, " he said expressing the joy of being selected from many contestants.
---

Special Jury Award
Hayato Kitahara
Ehime Prefectural Matsuyama Technical High School.
Title: Color Play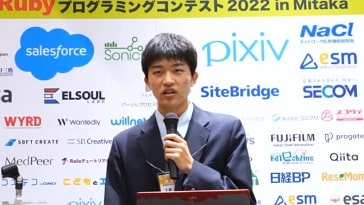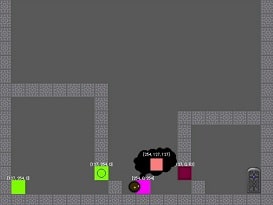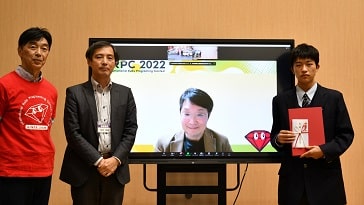 Reading the reference manual of DXRuby, Kitahara learned about a function called blend, which can change the color of the overlapping area. "We don't usually learn much about colors in our daily life. I thought it would be nice if we can learn a little about colors while playing games," he said, explaining the reason why he created a game with colors as the theme.
He devised a way to get the RGP values of the color blocks and gates and compare their values. The hardest part was to create the process for opening and closing the gate. "I want to move the characters. I want to create various gimmicks." This game was the result of his trial to match action game and colors.
"The game is unique in making colors the basis of the game," said the judges expressing their expectations. "You will be able to develop variations with it. Make use of your ideas and work on games using Ruby."
"In this competition I learned how the game could be improved, so I'd like to make use of it in my programming in the future," said Kitahara enthusiastically.
---

Special Jury Award
Kai Matsukusa, Wataru Sakashita – Team 'Deko-pin'
Takizawa Municipal Second Junior High School Science and Technology Club
Title: Deko-pin Guy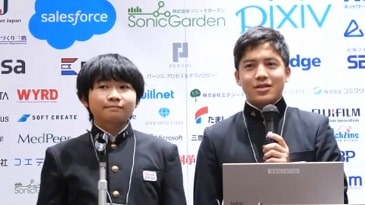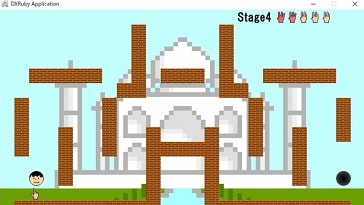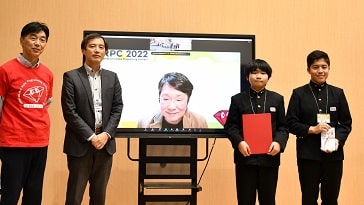 The charm of this game is "frustration" and "pleasure". It's a pleasure when you can play as you imagined. But if you fail to clear it at the last minute, you will feel frustrated and want to play it again. The game was created having this mechanism taken into account. Every time you clear a stage, the background, block placement, number of times you can deco-pin, etc. will change, allowing you to enjoy various developments while playing. "As deko-pin's reflection was not determined as expected, I had a hard time finding the cause," said Kai Matsukusa, who was in charge of programming.
Responding to a judge's question, "The picture in the background is interesting. Is it original?" Wataru Sakashita, who was in charge of graphics, answered, "Yes, it is original. I tried to draw World Heritage Sites simply, using perspective."
The Judges said, " The program is properly written in the code and that it has a high degree of freedom. Overall, it is well done, and we can expect further development. We hope you will continue to work hard," giving them Special Jury Award. It was impressive that the team expressed their gratitude to their teacher, along with their joy, in their comments after receiving the award.
---
Web Application / IoT Category

Grand Prize
Naoki Yamada
Title: Student Guild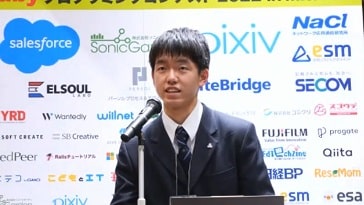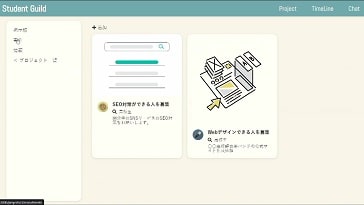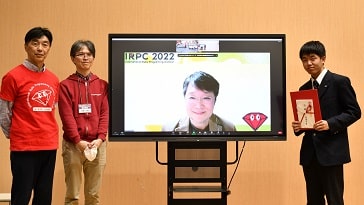 Yamada has once received Encouragement Award in the past. When he reflected on why he couldn't make it to the finals, he thought, "Maybe I didn't have enough skills nor enough time. If I had friends who could develop together with me, I might be able to solve the problem with my skills and time." It was not easy, however, to find friends at school, and it was also troublesome to visit various services online. So, he decided to build his own convenient and secure service and made this application.
This application has four features: to gather friends, to collaborate with your peers, to disseminate information, and to have easy-to-use UIs. Yamada tried to make the design as easy-to-understand as possible so that no explanations are needed.
In the future, he would like to integrate the project that he had done so far and aim to improve usability by adding a portfolio function that can be seen by other players, and by making it a smartphone application.
At the award ceremony, the application was praised for its high degree of completion. It was as high as it could be launched right away.
The Judges encouraged Yamada, saying, "Thank you for developing such an excellent application. You might need friends when you start operating the service. Please continue developing software."
"When I was researching, I couldn't understand the things that everyone was using as a matter of course. This made me keenly feel that there was something lacking with me. I would like to study it from the basics." Yamada expressed his willingness to continue learning.
---

Persol Process & Technology Award / Excellence Award
Yuria Kimura
Title: "SDGsList"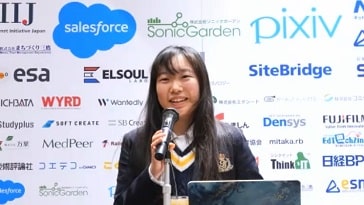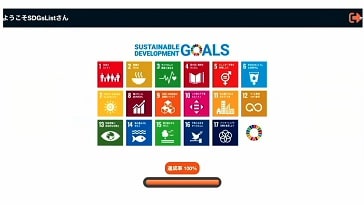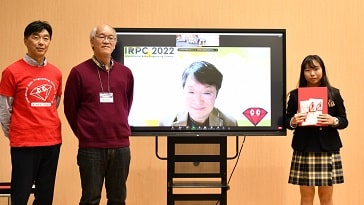 "I want more people to know about the SDGs." Kimura created the application wishing everyone to take one action in daily life in order to achieve the SDGs. She changed the color intensity of the pictures according to the achievement rate and visualized the progress bar so that the user can complete the To-Do List without giving up halfway. She added her own illustrations to the list to make the application more easy-to-understand, which she was particular about. "I made this application wishing that the users would be familiar with the SDGs, in order to achieve the goal to make SDGs known to more people." She also tried to increase the number of users by using the sharing function to post on SNS that she is aware of the SDGs.
"We were very impressed with her desire to have many people use it, and also the easiness in using and seeing the application," said the Judges, presenting her with the Persol Process & Technology Award.
Kimura also received the Excellence Award. "It's a very good program that deals with social issues of SDGs, which can lead to actual activities," said the Judges, highly evaluating the program.
"Through programming and what I am good at, I want to become a person who can convey what I want to express and what I want to say toward society and the world." Kimura passionately talked about the desirable future of herself.
---

Sonic Garden Award /Matz Award / Special Jury Award
Nozomi Fukawa
Title: "Startionary"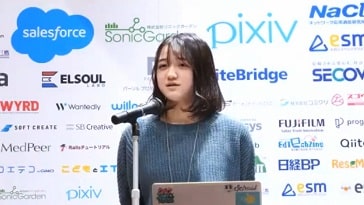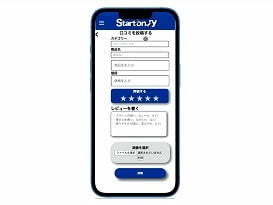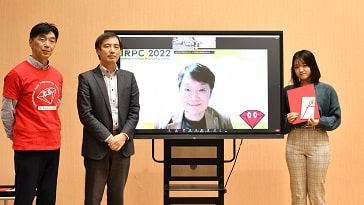 Fukawa's hobby is collecting stationary. Being asked why she created this application, "There are too many types of stationery to select what to buy. As I am still a student with a limited amount of pocket money, I don't want to make a mistake in shopping," she said. "To solve this problem, I created this application."
This application has three features. The first is a five-level rating by stars that allows you to see your rating at a glance. The second is a review template for people who don't know what to post. The third is a design that matches smartphones, which are the main devices used by junior and senior high school students. "I want to add more functions. I want to make it easier to see by classifying reviews by rating," said Fukawa, showing her desire to improve the application.
Splendidly, "Startionary" won three awards. As for the Sonic Garden Award, the sponsor said to Fukawa, "It's great that you are self-producing the application based on your own needs. In some part, it's common to the applications that we are making at work." Along with being given the regular supplementary prize, she was invited to the sponsor's office.
Chief Judge Matsumoto, who himself loves stationary, said, "The source code was standardized in a good sense, and I could see that you are doing a good job. I can relate to your desire for a review site like this. I feel that it has great potential as a real business, and I look forward to your future possibilities." With this, she received Matz Award.
"I am very glad that I could receive such awards for the website application that I developed for the first time by myself. I want to improve it and make it a better application. I would like to be able to program better toward future." Fukawa said with her eyes shining.
---
【Comment and Special Lecture】
Chief Judge Yukihiro Matsumoto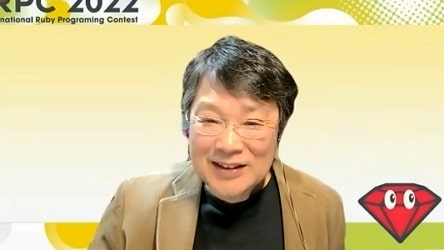 【Comment】
"You are great in that you are here; you are already selected!" said Matsumoto, praising the winners. Then he commented on each piece of work. "Please don' t be satisfied with this. Develop from this point, pass on your skills to your juniors. I hope you continue to develop." With this, he closed his speech.
【Special Lecture】 Theme:"Shuhari"
"Shuhari" is a word used in martial arts, tea ceremony, and others. This expresses development in three stages: To stick to the basics (Shu), To deviate from the basics and create your own mold (Ha), To depart from the basics to create something new (Ri).
There are various stages in programming. Introduction to programming is the way to learn various patterns following the wisdom of our predecessors. This is so called "Shu"(meaning 'protect' or 'maintain') . I think we don't have to do this much in contemporary world. Even if we do this, it does not produce new things in the world. The good point of programing is that you can try many different things including failure. What can we do to make this game more fun? The discovery of the answer to this question is "Ha" (meaning 'breakthrough'). If you can create your own software and create your own style, this will be "Ri" (meaning 'departure'). Then you can do whatever you like. There are many aspects to the enjoyment of programing, but you can say that it's mainly the joy of creating something new.
There is still more to go. When I started creating Ruby about 30 years ago, I was alone, but now, there are dozens of people involved in its development. Working in a large group may be sometimes difficult, but by cooperating with many people, I feel I can reach places where I cannot reach alone. There is a culture of open-source software style in the software development world. It's a culture where everybody is encouraged to join. It's a lot of fun and I think it's great. When some friends who want to join and work with you appear, the software you work on together will become better and better, and it will be used by many people. When you have such social impact, you will be able to feel a sense of accomplishment for the first time.
You are still young. Regardless of whether programming will be your profession or not, I hope you will continue to enjoy it. From my own experience, I believe that programming will enrich your life. I truly believe that I can be your friend and help you.
---
Closing Ceremony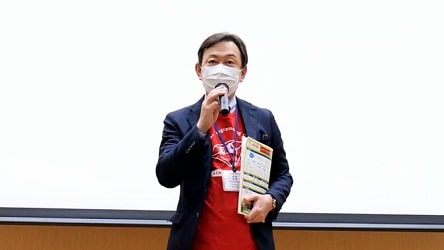 Sumio Yoshida, the Deputy Chairman of the Executive Committee expressed his heartful gratitude to all the applicants and the organizers of the competition, and venue and online viewers, for holding a high-level competition where we were able to feel young ideas, sensibilities, and passion. The grand stage that had been prepared for a year came to an end.
---