Tournament Report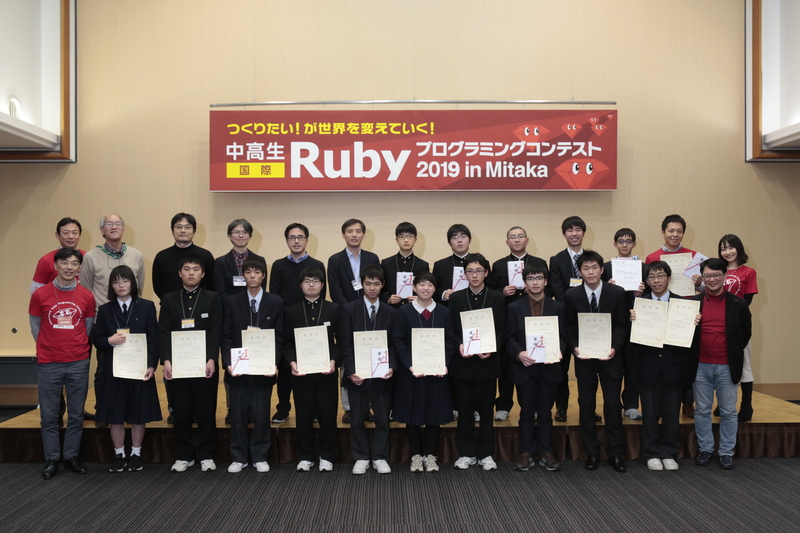 Opening Ceremony
To begin the event, Committee Chair Hiroshi Inoue took the stage and welcomed all the participants on behalf of the organizers.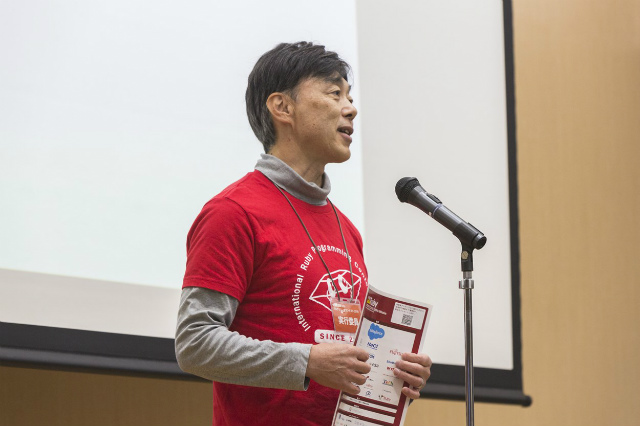 Mr. Inoue emphasized that the International Ruby Programming Contest for Junior and Senior High School Students is entering its ninth year and has become a competition of significant notoriety and great history. He expressed his support and congratulated the eleven finalists on their great feat of having been chosen among 103 entries. Mr. Inoue closed the opening remarks with a final message of encouragement to all the participants.
Presentation by applicant
Game Division

First Place
Hibiki Hatakeyama – Team Ghost
Takizawa 2nd Junior High School Science and Technology Club (Iwate)
Title: TOWER of GRIME REAPER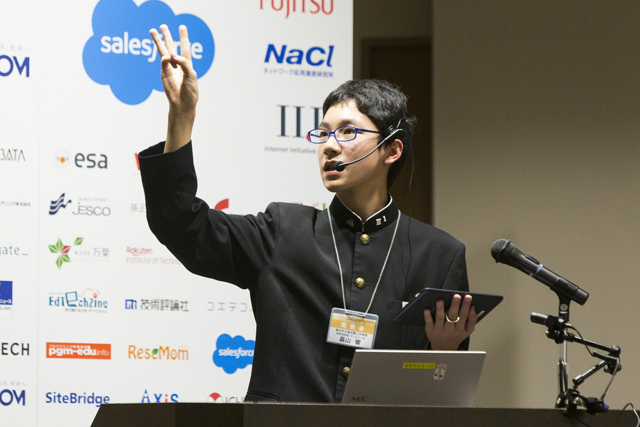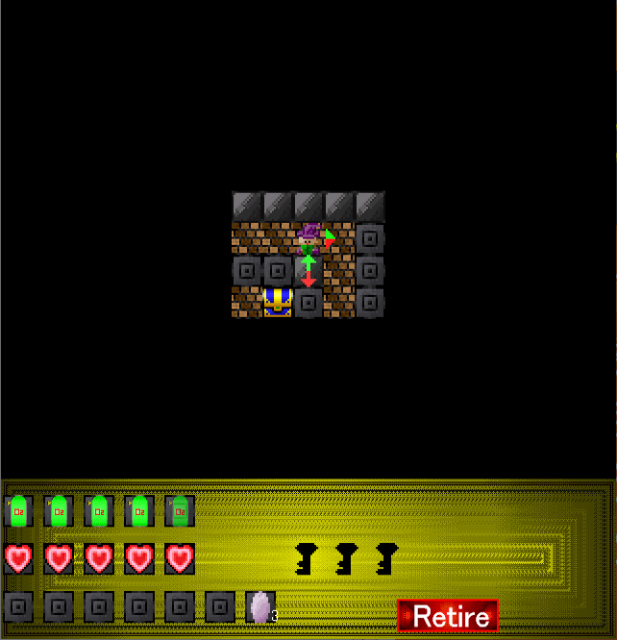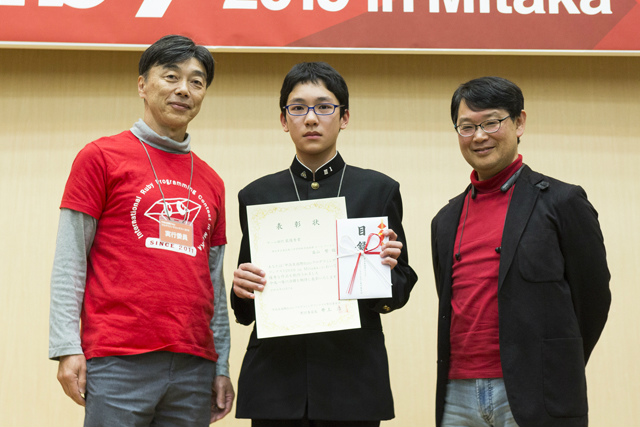 This year's impressive first place winner in the Game Division was none other than Hibiki Hatakeyama, who won the Judge's Special Award in last year's competition for his immunization-focused game, Immunity's War. This year, the ninth grade student created a game which used many interesting tricks and blocks. His creative roleplaying puzzle game has players collect keys from treasure boxes to achieve the final goal.
After missing out on the top prize in last year's competition, Hibiki doubled down for 2019, devoting his time to this brilliant comeback. As he accepted this year's top prize, he told the attendees and judges that he spent a lot of time working on this project, writing a substantial amount of code, and even simplifying the source code for maximum effect. This effort culminated into his first place win this year. Even as he moves on to high school, Hibiki shared his great desire to continue coding.
---

Runner Up
Nanae Hirota and Kira Hoki – Team Rhythm
Takizawa 2nd Junior High School Science and Technology Club (Iwate)
Title: OTOZUMU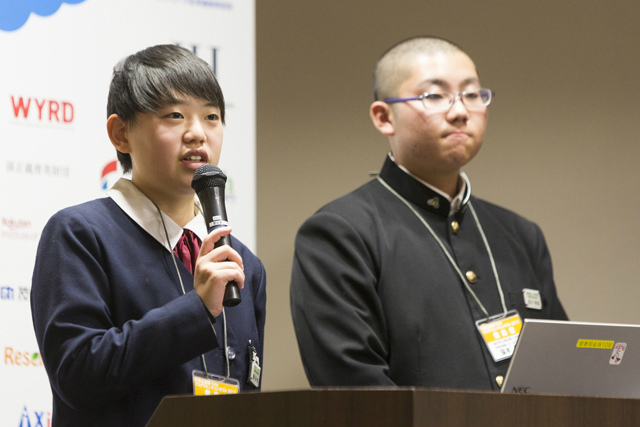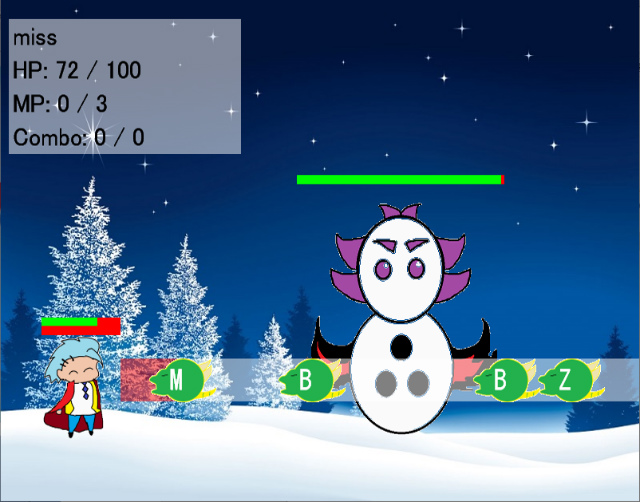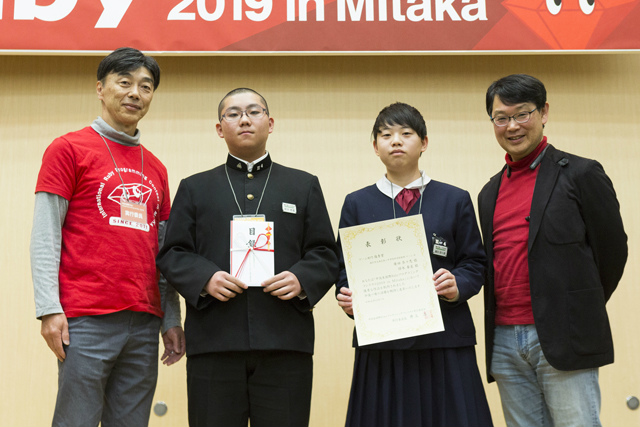 Our runner up prize is awarded to an impressive pair, Team Rhythm. Programmer Nanae Hirota and designer Kira Hoki created Otozumu, a game where the main character moves along with the music while defeating enemies. Matching the rhythm, players type using the keyboard as letters appear on the screen and accumulate points for their accuracy. The judges commented on what a challenge it is to create a game using music, and applauded Team Rhythm for their impressive accomplishment.
In the final stages of judging, Team Rhythm, notably the only gender-mixed team to appear in the final stage of the competition, explained how much they enjoyed being able to use popular songs, such as those from the famous title Taro Urashima.
---

Judge's Special Award
Yuuma Kanazawa and Narumi Ito – Team Word
Takizawa 2nd Junior High School Science and Technology Club (Iwate)
Title: Moji-tsumi (Letter Stacking)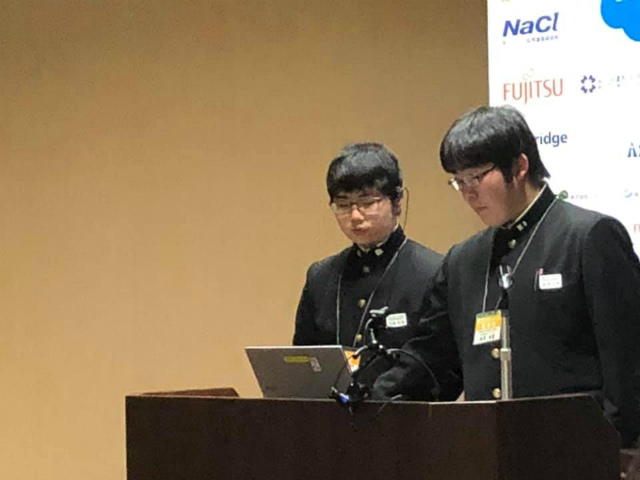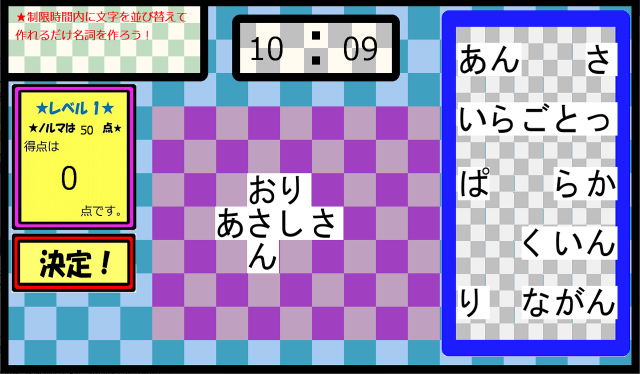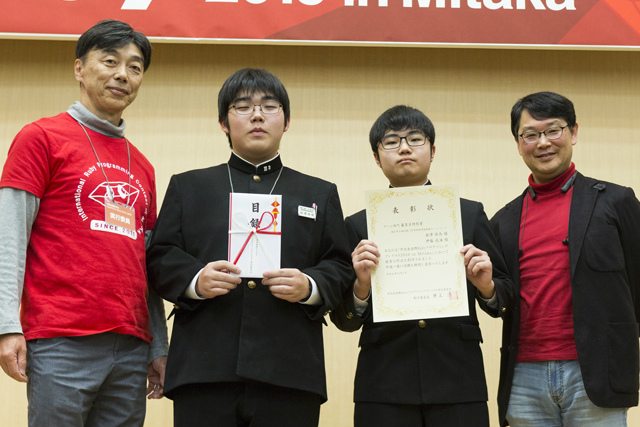 Team Word's Yuuma Kanazawa and Narumi Ito created the game Letter Stacking. In this game, players collect points by lining up letters within the time limit to create words. With no set location for where letters can be placed, players can freely create words and gain the maximum amount of points by creating the longest word. Depending on how many words are created within the time limit, the player can multiply their points by three and even five times. Letter Stacking is a well-polished game and was highly ranked by the judges and garnered praise for its fun and unique qualities.
In reference to improvements they would like to make, the creators expressed their desire to spend more time reflecting on the gameplay experience and increase the dictionary capacity, even incorporating kanji in future versions of the game.
---

Judge's Special Award
Tooru Murayama and Hayato Otomo (boy) – Team Indy
Takizawa 2nd Junior High School Science and Technology Club – Team Indy (Iwate)
Title: Stick Adventure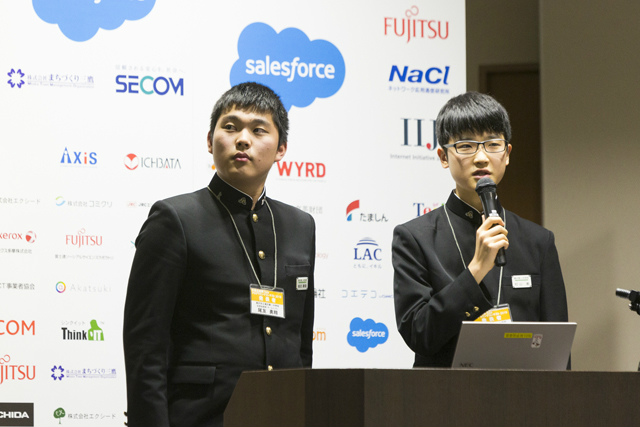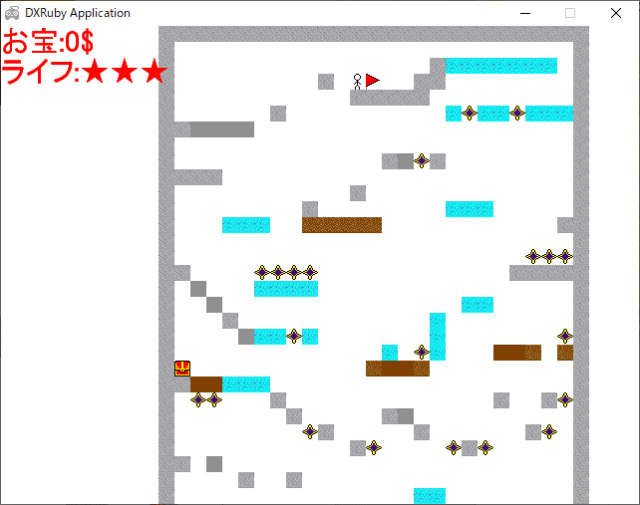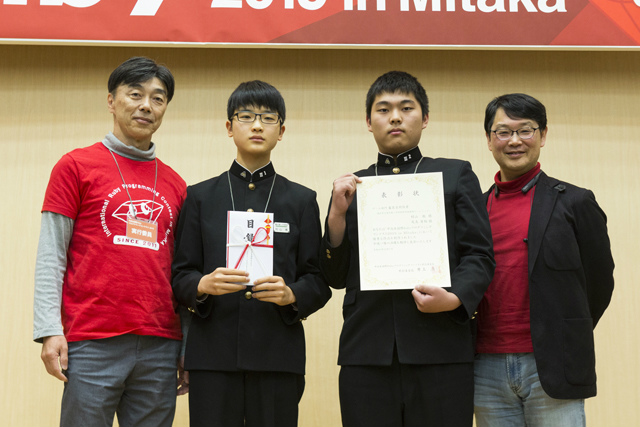 Another Judge's Special Award was presented to ninth grade pair, Team Indy, comprised of Tooru Murayama, the game design lead, and Hayato Otomo, the programming lead. Team Indy created Stick Adventure, a game that has players use a character to navigate block stages and acquire treasures from each stage. The pair explained that they were very intentional with the stage creation and provided five levels for players to enjoy. The game's special features include the ability for players to challenge themselves up against faster by more difficult shortcuts, or to follow the longer paths providing simpler gameplay.
During the creation of this project, Tooru apparently fell ill, so his advice to those pursuing programing is to create a solid plan, including not just the project's task management, but also self-care to ensure the health of creators.
---

Judge's Special Award
Manami Hasegawa
Shimane Prefectural Matsue Commercial High School Data Processing Dept. (Shimane)
Title: Unusual Shooting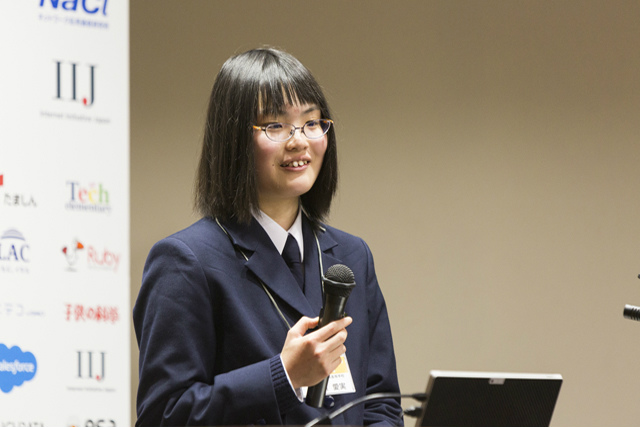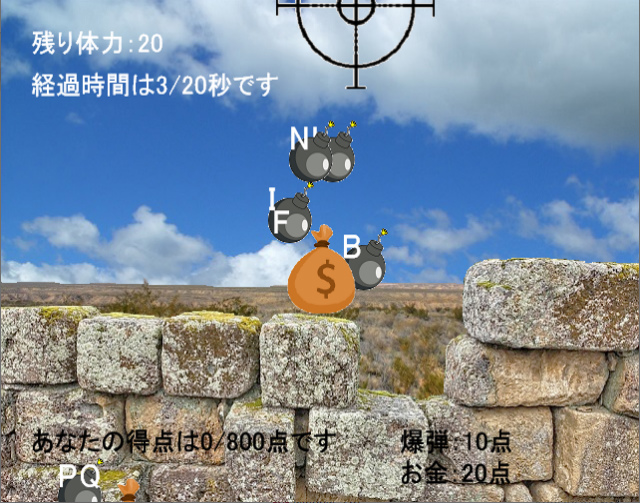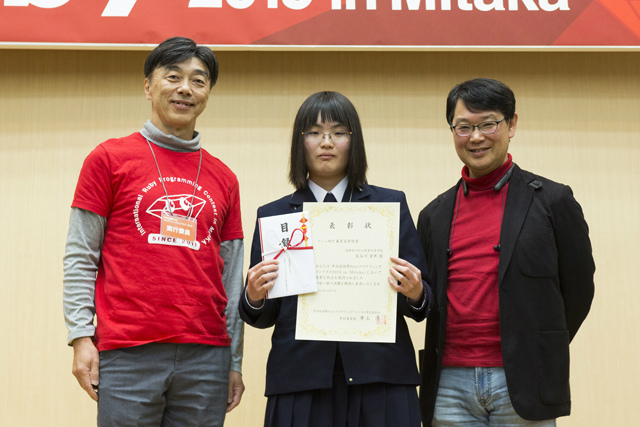 Manami Hasegawa is the only singular female applicant to have made it all the way to the final round. This 12th grade student created the game Unusual Shooting, where players use their typing abilities to shoot and fight against enemies. While discussing her impressively polished game, Manami explained that she would like to improve the game by allowing players to use characters outside of the alphabet, adding a counter for the number of typos, and even include animation in future versions.
Manami talked about how she became very frustrated during the creation of Unusual Shooting because of how many bugs there were, but gained motivation through watching her friends play and enjoy her creation. Good job on those bug fixes, Manami!
---

Judge's Special Award
Yasushi Chihara
Ehime Prefectural Matsuyama Technical High School (Ehime)
Title: Arrow Dungeon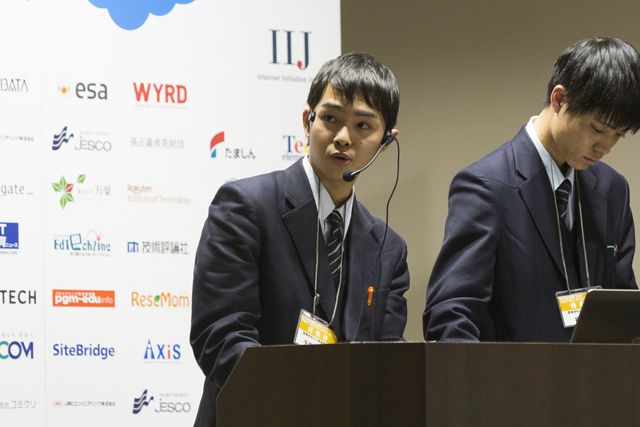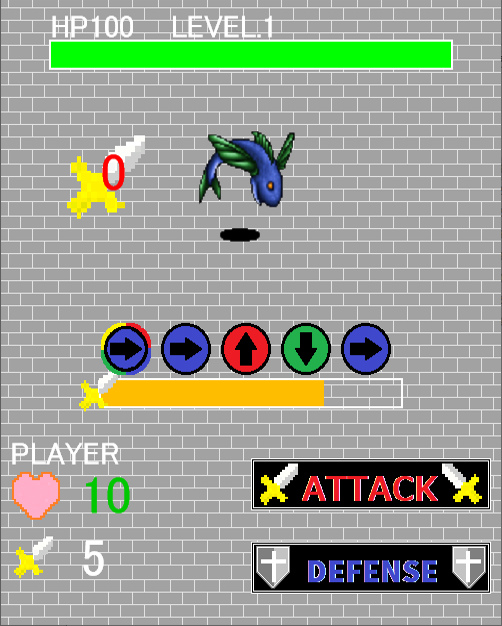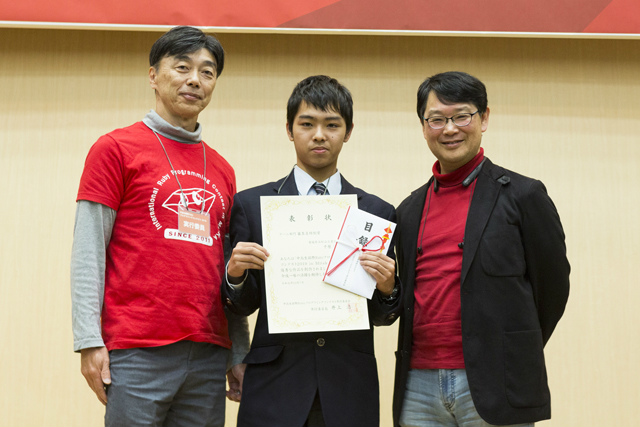 Next was the sixth presenter, Yasushi Chihara and his game Arrow Dungeon. Now a 12th grade student, Yasushi created a roleplaying game where players clear missions and defeat dungeon bosses to advance through the game. During boss fights players match key presses to the arrows appearing on the screen to land hits, likewise by using the directional pad players can defend themselves against the enemies' attacks by remembering the patterns of arrows appearing on the screen and pressing the corresponding keys.
The judges were impressed by the overall concept of the game and complemented Yasushi on his dungeon creation and battle scenes. Yasushi was admittedly disappointed that he didn't place first, but told the judges and attendees that he was happy to be able to present his project today. Going forward, Yasushi hopes to continue his programming endeavors. We await his future creations!
---

Judge's Special Award
Ren Fukunaga
Ehime Prefectural Matsuyama Industrial High School (Ehime)
Project Title: Create Route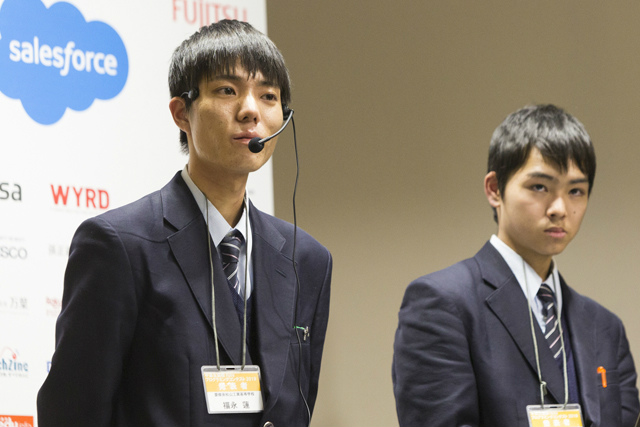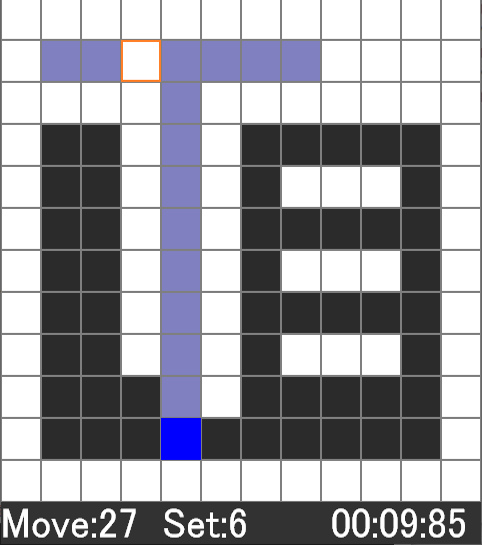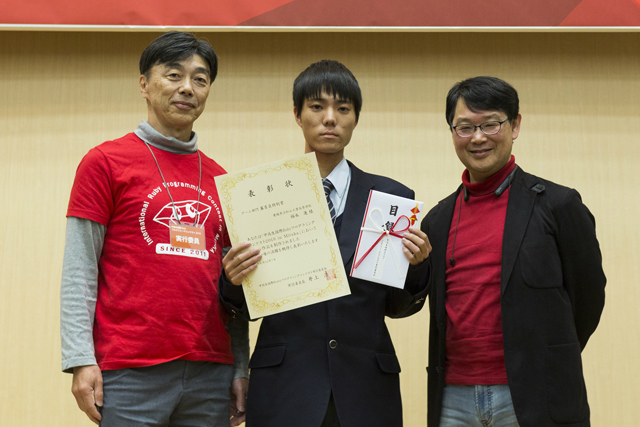 The last of six groups to take the podium in the Game Division was high school senior Ren Fukunaga to present the project, Create Route. This game has players paint the map as they navigate within a limited number of turns. To clear the game, players must paint the entire map without exceeding the limited number of moves. As an extra trick, the character can only move straight, but in left-clicking the map the player can make a wall appear. These walls force the character to change direction when hit and allow the character to create new routes. Ren explained the great difficulty he had with map creation, especially considering the storage requirements. But he succeeded in his goal of creating a simple and original game to entertain players over and over.
Like the previous presenter Yasushi from the same school, Ren wants to continue programming as he enters high school. We are excited to see what he does next.
---
 
First Place
Takayuki Ito
1st Year High School Student (Hyogo)
Title: Denser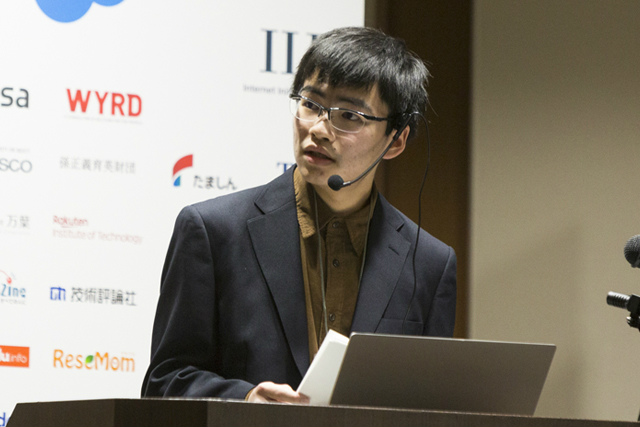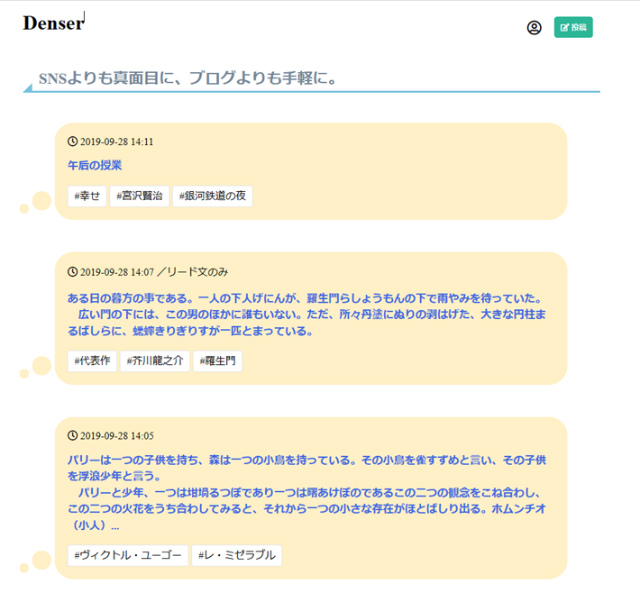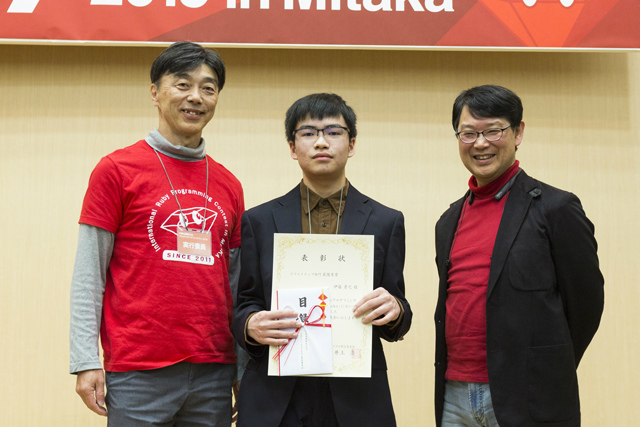 The first place winner in the Creative Division is none other than Takayuki Ito with his Twitter-like blogging application, Denser. Unlike other social network services like Twitter, users' posts can exceed the character limit and also features a function to judge the tone and emotion of individual posts. Additionally, users can edit their posts after they have been shared.

Mr. Matsumoto, the event's Chief Judge explained that he believes we will see this micro-blog, Denser, gain significant popularity and become famous abroad within a few years. Mr. Matsumoto is greatly looking forward to the future of Denser.

Takayuki explained that he has been studying how to use Ruby on his own since April and managed to finish this project by the end of September, a very short time by all accounts. Takayuki is thankful and surprised to have placed first in the Creative Division and did not believe he would manage to achieve the highest prize. Above all, Takayuki was happy to be able to create something that really interested him.
---

Runner Up 
Kyo Terashima and Haruichi Kanai – Samumu and Delightful Duo
Nagano Prefectural Matsumoto Technical High School Electrical Engineering Dept.
Title: Wirelessly Controlled Multidirectional-movement Robot Program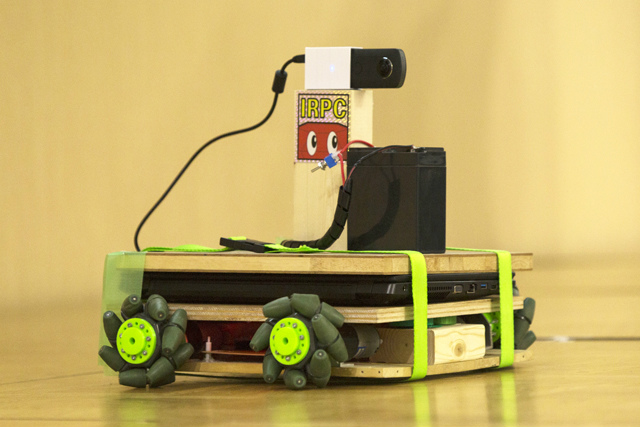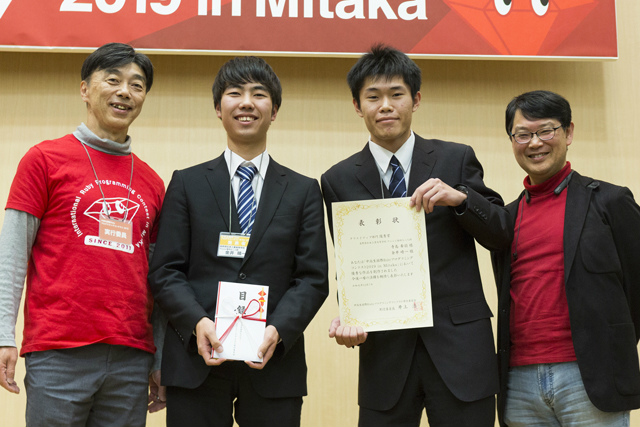 The Runner Up prize in the Creative Division is awarded to a remote-controllable network camera system created by Kyo Terashima and Haruichi Kanai. This system was created to be used as a device which can enter dangerous or small places not suitable for people and provide a live camera feed. To stream the footage, the program connects to Youtube. For demonstrative purposes, the creators asked the judges to wear VR goggles, use the remote-control function, and view the pre-made presentation of their creation. The creators explained that in the future they would like to improve the program to the point where it might be used to access areas inaccessible to people in times of emergency or natural disaster.
According to the creators it took approximately three months to create this program and they hoped to share with everyone the great potential of robot systems.
---
Judge's Special Award, Matz Award
Yuu Inoue and Koutarou Hayashi – Team Matsu-Kou
Ehime Prefectural Matsuyama Industrial High School (Ehime)
Title: Program Fighters & Scratch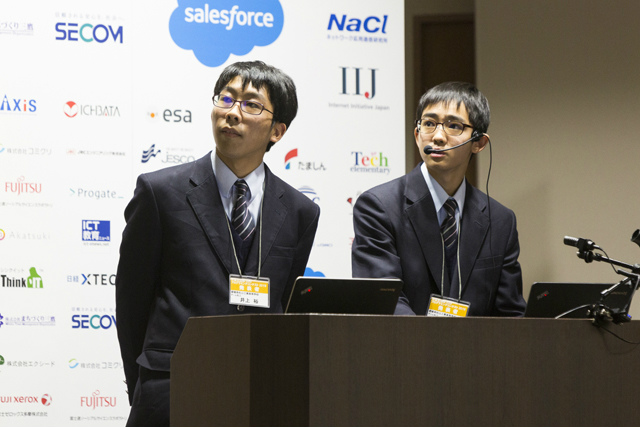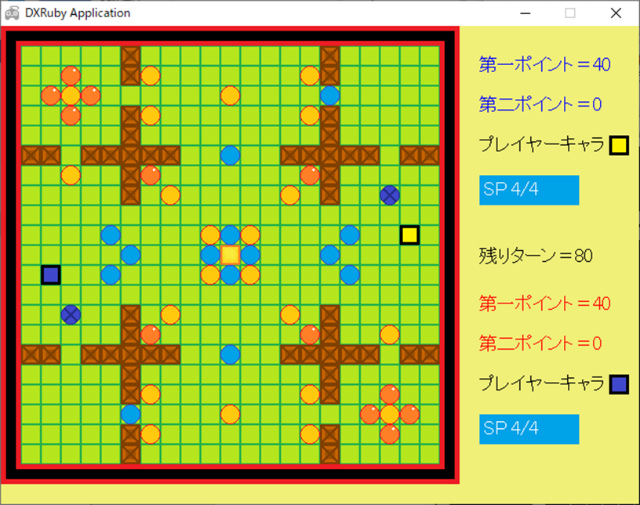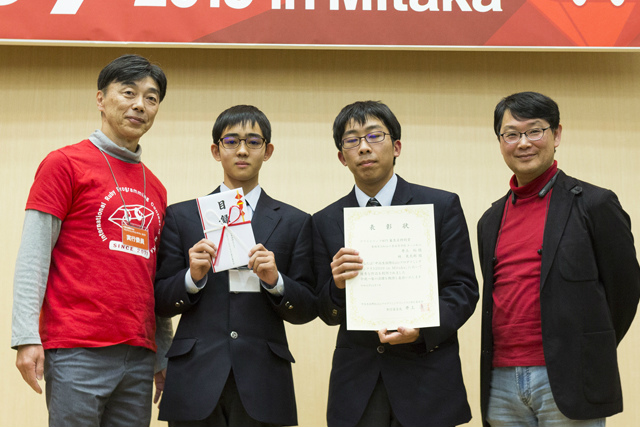 With the goal of spreading a message about the fun one can have through programming, 11th grade Yuu Inoue and Koutarou Hayashi created the game Program Fighters & Scratch to introduce users to artificial intelligence-based games. Program Fighters & Scratch is a 'Ruby learning software' for beginner users to create their own games to fight enemies and gain points.
In addition to receiving the Judge's Special Award, the pair also received the coveted Mats Award from Chief Judge Mr. Matsumoto. Feeling motivated as a recipient of the Matz Award, Yuu expressed his desire to create an even more impressive project for next year's competition. On the other hand, Koutarou reflected upon their presentation and disappointingly explained that although he tried to convey the project's message, they exceeded the time and felt like they didn't achieve their goal. The two aim to work harder and place even higher in the competition
---
Judge's Special Award
William Yamada
Los Angeles, USA
Title: How Good are you Drawing?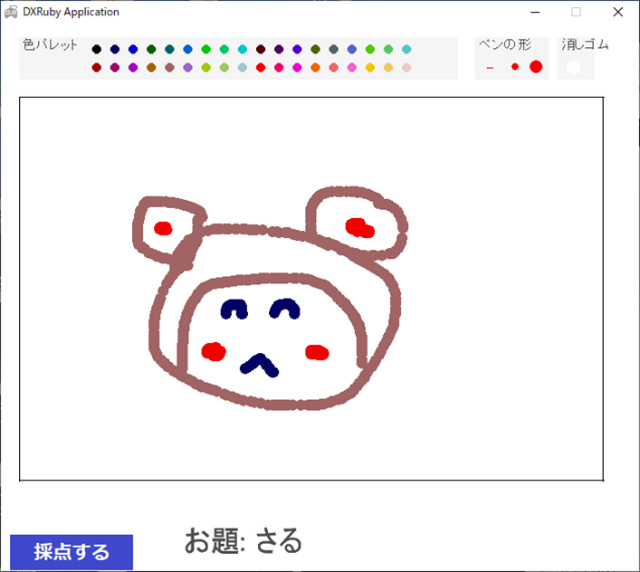 The next recipient of the Judge's Special Award is a special finalist who applied all the way from Los Angeles, William Yamada, who appeared at the event with the help of a video of his own creation. To provide further explanation of William's creation, Mr. Hiroyoshi Noro of DIVE INTO CODE, and a member of this competition's Executive Committee took the stage.
How Good are you Drawing? is a game which uses artificial intelligence (AI) to evaluate drawings created in the specialized drawing software. A special feature of this program is its ability to provide language support in three languages, English, Japanese, and Spanish, the use of GoogleAPI, and extensibility, allowing users to add further language support and even additional tools.
Topics of this particular presentation included William's impressions of using GoogleVisionAPI and the power of Ruby as a programming language. William explains how in future versions he would like to separate the part of the program that evaluates users' drawing abilities from the part of the program that tests the analysis abilities of GoogleAPI.
---
Lecture and Comments
Lecture Title: The Potential of Programming – Presented by Yukihiro Matsumoto, Chief Judge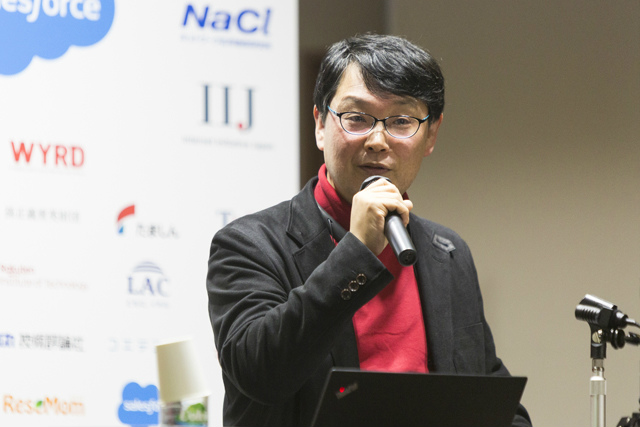 To wrap up the spectacular presentations, the event's Chief Judge Mr. Matsumoto took the stage and commented on this year's finalists. This year's competition brought many new and exciting ideas to the Game Division, he said. He was impressed to see the variety of creativity in the Creative Division this year and Mr. Matsumoto found himself particularly impressed by Yuuma Kanazawa and Narumi Ito's game, Letter Stacking, where players can have great fun even when playing alone. In the Creative Division, Mr. Matsumoto has high hopes for the future of Takayuki Ito's micro-blog platform Denser. In addition to Denser, Mr. Matsumoto found himself very impressed by the Wirelessly Controlled Multidirectional-movement Robot Program created by Kyo Terashima and Haruichi Kanai. He thanked them for their use of mruby. In a few years, Mr. Matsumoto wondered about whether future iterations of Yuu Inoue and Koutarou Hayashi's Program Fighters & Scratch might be successful in the Smalruby Programming Koshien, another programming competition for youth in Japan. In Mr. Matsumoto's closing comments regarding the presentation, he encouraged the competitors to continue improving their programming skills and challenge themselves to make something completely new. He thanked the competitors for their spectacular projects and cheered on their future endeavors.
To continue, Mr. Matsumoto progressed to the lesson portion of his presentation to speak on the topic 'The Potential of Programming'. Mr. Matsumoto explained that with the power of software, it is possible to create worlds. To create a memorable experience, to use software to elicit feelings, and even using software to create rules is equal to creating worlds. By considering your target audience and considering what feelings you want them to experience, it becomes necessary to use one's imagination and combine it with technology to bring this idea to life. This is the essence of programming and its creative uses, Mr. Matsumoto explained to the attendees and competitors.
Next, Mr. Matsumoto talked about the development of Ruby. He explained that all you need is one computer or laptop to become a creator. Unlike many other creative artforms, programming is platform that allows endless and limitless creation, and Ruby itself is celebrating 26 years since its creation and 26 years of creation and evolution. Mr. Matsumoto created Ruby with a culture of cooperation in mind, where it is not simply the work of one person, but rather the program is open to the world and people can work together in Ruby's development. This aspect is relatively unique, and not found in many other creations. What's more, Ruby even provides services to support the community. Mr. Matsumoto explained that the ability to not only create worlds with the use of a computer, but to also distribute this world throughout the globe is the meaning of 'The Potential of Programming'. With improvements to the performance of computers and the internet, the potential of programming also continues to expand. As Mr. Matsumoto's final message to the young competitors, he explained that by understanding programming, and by understanding the concept of world-building, and sharing this with those around you, it is possible to open the world to a new world of programming.
---
Closing Ceremony
Mr. Sumio Yoshida, Executive Vice President of Mitaka Town Management Organization and the event's Deputy Chair of the Executive Committee provided the event's closing remarks. Mr. Yoshida expressed great praise and gratitude to the finalists and applicants, followed by deep thanks to the many sponsors, supporters, and committee members involved in the event's operation who made the 9th Annual International Ruby Programming Contest for Junior and Senior High School Students a success from start to finish.
---